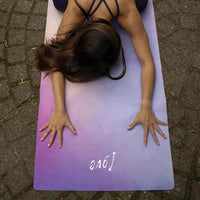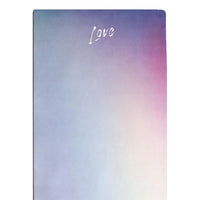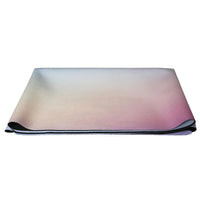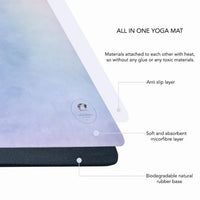 Studio Felicidade
Travel eco friendly yoga mat
Great travel companion: Thin, lightweight, and foldable. Eco friendly. Hygienic (machine washable).
Made of a biodegradable natural rubber base and absorbent soft microfiber top layer. Only this design is available in travel size.
Easy to carry on, and great for light traveling. When traveling it's nice to have your own mat for hygienic reasons.
Also, you can roll it on the top of your studio mat for extra cushioning or at home on the top of the carpet.
Print: Beautiful warm gradient colors to energize you. Feels like some kind of light.
With hand-drawn letters, you will LOVE. 

Printed with eco-friendly water-based ink.
Material: Biodegradable natural rubber base and luxurious suede microfiber top layer that's soft to your skin. The top suede layer acts as an absorbent towel. The more you sweat, the better the grip on the mat. If you don't sweat much, we recommend that you spray gently with water for extra grip. Zero odor.
PVC-free and contains no toxic ingredients. Free from latex, silicone, and toxic glue.
Machine washable.
Check Washing and care in the footer menu.
Size: 178x61 cm, thickness: 1mm, weight: 1,2 kg 
Yoga styles: Suitable for all yoga styles. Perfect for hot yoga, ashtanga, vinyasa, power yoga, pilates, or any sweaty practice, and for yin, restorative yoga, or meditation.
Studio Felicidade
Felicidade (Portuguese, noun): Happiness, joy. A state of happiness.
After working for over 12 years at corporations such as Nike, Irena Krajina was determined to launch her own company that could showcase her beautiful and unique prints. As a passionate yogi, doing yoga for more than a decade, it was natural to design for yoga. Yoga mats became her canvas! 
Felicidade believes that yoga mat should have a holistic approach. Besides visual and tactile elements it should be practical and functional. After conducting careful and thorough research to identify the best suppliers to partner with, and through extensive consumer research, Felicidade yoga mats were born!
Felicidade yoga mats are eco-friendly, made from a biodegradable natural rubber that provides you with enhanced cushioning compared to a typical PVC mat. The microfiber/suede top layer will feel exquisite against your skin. Printed with water-based inks, our yoga mats are free from silicone, phthalates and toxic glues. What's more, these limited-edition Felicidade mats are also machine washable!
 An authentic yoga mat 
As the designer of Felicidade yoga mats, Irena's fascination with flowers, tropical prints, special colour combos, hand drawings and textures are proudly displayed on these high-quality mats. Yet this eye-catching element is just one visual aspect.
We are shipping to all European countries.
Felicidade means happiness in Portuguese/Brazilian and its Irena's old capoeira name. She loves the meaning and energy of this word.
Felicidade yoga mat will bring a smile on your face and joy in your yoga practice!