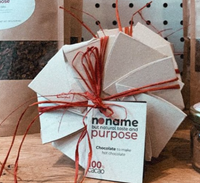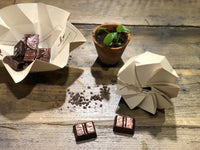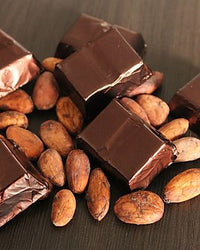 No Name Chocolate
Chocolate Cacao Box (10 cubes)
No name is high-quality chocolate made by local farmers with the opportunity to contribute to a change in Colombia. The company's
 varieties achieve a flavour that ranges from avian notes ripe, citrus and floral fruits of aromatic herbs, and even sweet notes; candy, spices and nuts, which you can enjoy when tasting each piece.
no name is high quality, specialty chocolate made by local farmers and an opportunity to contribute to change in Colombia.
100% Cacao hot chocolate cubes

 

Vegan

Lactose-free

Wrapped in foil + carton box

160gr, 10 x 16gr pieces 
Hacienda La Tentación is our cocoa farm. Flavour notes of our varieties range from oranges and orange liquor to toasted hazelnuts, toasted cereals and yellow fruits and even to sweet notes of candy, spices and nuts, which you can enjoy with every bite. 

We like to say that our specialty is to find good cocoa and take it through the best possible process. Instead of being experts in the creation of recipes and the science of food, we are experts in achieving a unique flavour through the selection of the best varieties of cocoa as our main raw material.

no name adds additional value to the cocoa of our Colombian farmers by paying a premium above market price. With fair and equitable models, we make our best efforts to have a positive impact on the ecosystem and preserve the best agricultural practices.
​Ethically Made
Bean2Bar
​