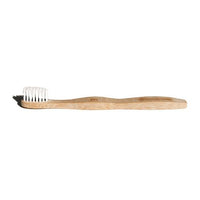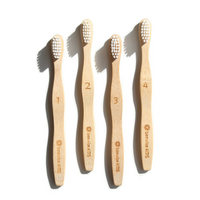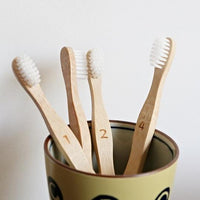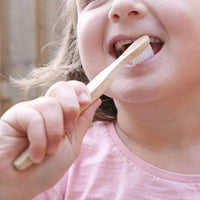 Beewise
Bamboo Toothbrush Kids
By providing your child a bamboo toothbrush, they too can brush their teeth without damaging the planet and start learning early on about how they can help protect the environment.
These toothbrushes are a great choice for kids: it's small enough for a child's mouth and the bristles are super soft so it won't irritate their gums.
Once your child is finished with this toothbrush, it will decompose quickly. A bamboo toothbrush can decompose in as little as four months compared to the thousands of years your plastic toothbrush takes to break down…you can clearly see the benefit to the environment!
Kids size from 2 years old – Pack of 1 or 4 units

Soft BPA-free Dupont bristles and water-resistant bamboo handle
Individually numbered toothbrushes 1-4
100% biodegradable and compostable packaging
OUR STORY

Beewise is a company created to encourage people to live a sustainable life by helping them making conscious choices with the day-to-day products they use. Thier mission is to reduce plastic use by making eco-friendly, reusable, non-toxic and sustainable products available to everyone. Their packaging is plastic-free and compostable.