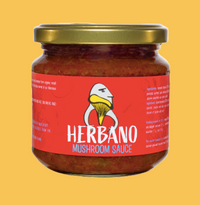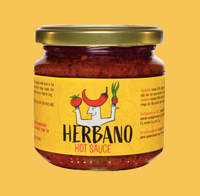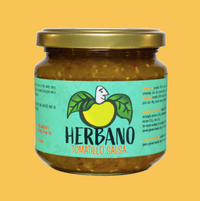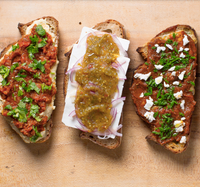 JARA
Hot Sauce
HERBANO products are 100% organic, gluten-free, vegan, without artificial additives. Each jar contains at least 80% of vegetables directly from sustainable organic farms in the Netherlands. The products are ambient with a long shelf life.
Tomatillo
This salsa verde is the "Original Mexican Taste" that makes everyone fall in love with it. Fruity, zesty, and a tiny bit spicy, Tomatillo Salsa can light up your meal with its bracing acidity. Its tanginess makes a wonderful addition to tacos, toasties, quesadillas, nachos, or any BBQ'D food of all sorts. Ingredients: Tomatillo (42%), olive oil, chili peppers, garlic, salt.
Hot Sauce

The sauce of Andres's grandmother. A rich and smoky flavour due to the roasted onions and garlic, the tomatoes' umami, and the chillies' spiciness blended with EVOO create around an unmistakable taste for this perfectly creamy authentic Colombian sauce. Ingredients: Tomatoes (28%), olive oil, onions, chili peppers, garlic, apple cider vinegar, salt.
Mashroom Sauce
Slowly cooked mushrooms, onions, carrots, garlic, rosemary, tomatoes, wine, and olive oil. This product was born after many years of living in Italy. Bringing the creaminess of the traditional italian ragout to everyone. Ingredients: Diced tomatoes (32%), mushrooms (30%), tomato passata, carrots, onions, red wine, olive oil, garlic, salt, rosemary.
Herbano
Andres decided to start HERBANO in May 2020 to tackle the food surplus caused by the lockdown. His aim is to transform the Amsterdam pantry from global to local, without giving away the pleasure of eating.
- 85% of Herbano ingredients come from Amsterdam or surroundings
- 10% from different parts of the country, 5% from Europe*
- Herbano only use organic ingredients from local farmers that grow vegetables using regenerative agriculture techniques
- All the organic waste goes back to our farm De Stadsgroenteboer in Amsterdam West to be composted, creating a circular economy
*Evo Oil from Italy and Greece, salt from France, vinegar from Germany, and lemons and wine from Spain, all certified organic