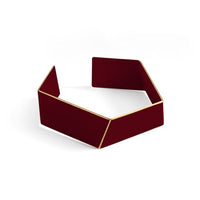 Lisa Kroeber
Folded Bracelet
Geometric and straight, colourful and fresh - FOLDED is the most successful series of Lisa Kroeber Jewellery Art. 

Materials: powder-coated brass 

Lisa Kroeber Jewellery is an Estonian brand, knows for taking a poetic approach to jewellery-making. Created by German designer Lisa Lohu, it combines brass and/or silver, with gemstones, woods or artificial materials to create mesmerising minimalistic statement pieces. Available in limited series only. 

Made in Viljandi, Estonia