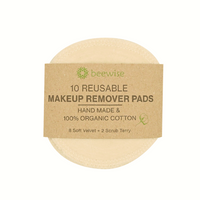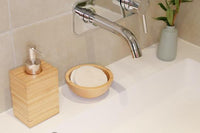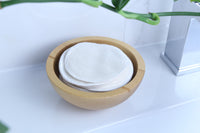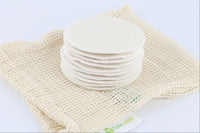 Beewise
Organic Cotton Makeup Pads – Set of 12
These reusable makeup remover pads are a sustainable alternative to single-use cotton pads and makeup remover wipes. Most single-use pads and wipes are not recyclable and also not compostable - when they are also soaked with a chemical mixture of makeup remover liquid.
Cotton may be a renewable resource, unlike plastic, but the farming of cotton makes a huge impact on the environment, especially when it's not organically sourced. Chemicals can pollute rivers and damage local wildlife. The other damage is the huge amount of water used to produce cotton.
Because of that, we invite you to try these reusable cotton pads! You will be using certified organic cotton on your face, meanwhile protecting the environment. You can reuse these super soft pads hundreds of times. Besides, you save a lot of money in the long term. 

Available in Natural or Black Colour
Set with 8 Velvet Cotton Pads (for daily use) + 2 Terry Cotton Pads (for tenacious makeup)
100% Organic Cotton & Double Side
Hand Made in Amsterdam (as they are cut by hand, slight variations in size and shape may occur)

How to use:

Apply any of your favorite skincare products on our reusable cotton pad and gently massage your skin. You can use both sides. Wash it either by hand or in a delicate bag with usual laundry up to 40°C. Avoid fabric softener not to decrease its absorbency (same for your clothing). You could instead use white vinegar. We recommend air drying.
OUR STORY

Beewise is a company created to encourage people to live a sustainable life by helping them making conscious choices with the day-to-day products they use. Thier mission is to reduce plastic use by making eco-friendly, reusable, non-toxic and sustainable products available to everyone. Their packaging is plastic-free and compostable.