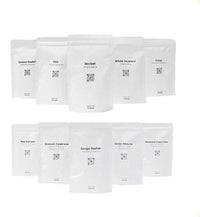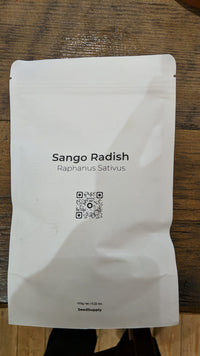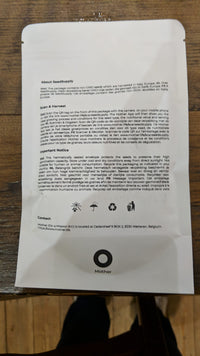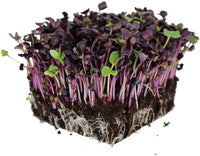 Mother
SeedSupply - 100g
The package contains non-GMO seeds which are harvested in Italy.
Scan the QR tag on the front of the package with the camera on your mobile phone or visit the link mentioned on it. The Mother App will then show you the ideal growing process and the conditions for this seed type, the nutrition value and serving tips.
Cress is a microgreen that has a rather tangy spicy flavor. Because of that, it has been commonly used as a natural seasoning for soups, salads or sandwiches. The taste is refreshing and easily distinguishable. To grow cress, you have to make sure to keep moisture at the minimum.
Mizuna is a member of the Brassicaceae or cabbage and broccoli family. The name Mizuna means "water greens" in Japanese. This Japanese mustard is the one that has a relatively milder and less spicy taste, making it a perfect substitution for the more spicy microgreens like the arugula. Some varieties have a more distinctive mustard taste. During the first few days after germination, you may notice the mold-like white, hairy structure located at the bottom on the soil level. Don't worry, it's quite common in mizuna, radish, and broccoli. The white root-hair helps the seedlings to better absorb water and minerals from the soil. Mizuna is one of the 41 protected 'Kyo yasai' vegetables grown in Kyoto, since the 18th and early 19th century.Mustard has been cultivated for over 5000 years for its seed and leaf. Studies show that the antioxidant content can reduce the rate of bladder, colon, and lung cancers.

The komatsuna, also known as mustard spinach, has a milder taste than the regular mustard. If you like to eat mustard, but you don't like the spiciness, then this microgreen is ideal for you. The leaves of the mustard spinach have a deep green color.
Broccoli microgreens have a milder broccoli-taste, or bitterness, some say. The slightly bitter taste is due to the presence of a compound called sulforaphane. This compound is good for your health, though!


Broccoli is fairly quick to germinate and grow. It's so fast that you can harvest it on the 7th day. Also, broccoli doesn't need as much water as the other microgreens, so you just have to make sure there is some moisture in it and they should be fine.

Pea shoots are commonly used in many traditional stir-fry dishes. 
The seeds are huge and take up a lot of space, so you might need to use more seeds for a thicker harvest. When growing the microgreens, you may notice that pea shoots take up lots of water, that's completely normal.

Daikon Radish is one of the most popular and easy microgreens to grow and has a pleasantly mild spicy flavor. Generally, you don't need to soak the seed at all, but you can do that for a couple of hours for a better germination rate.

Kale is a very popular microgreen that comes with a broccoli-like mild taste. Although the nutrition of kale microgreen was not fully understood (due to lack of data), some say it's one of the healthiest microgreens. Unlike the mature kale, the microgreens are milder in flavor and don't have the bitterness.
rugula, or rocket, is one with a unique peppery taste. It is also one of the most popular microgreens for the salad mix and garnishing. Arugula is fairly easy to grow and germinates quickly within just a couple of days.Make sure you spread the seeds evenly and don't overwater them. Unlike the others, arugula prefers a minimum moisture environment to grow better.

The light red stem of Kohlrabi microgreen is beautiful and quite easy to grow. It has a light cabbage-like taste and is very suitable to use in sandwiches or as a salad base. A colorful variety of microgreen/sprouting radish. They have a uniform eggplant-purple color, although some are green or green-purple in color. Cool temperatures intensify color. Purple stems grow darker toward the top of the sprout, ending in a pair of dark purple heart-shaped leaves.

Sango is easy to grow and is popular in micro mixtures for color and flavor.