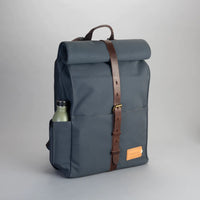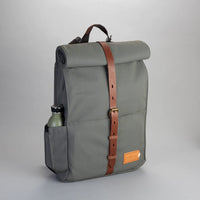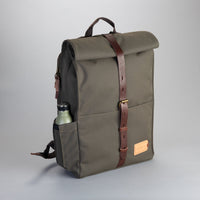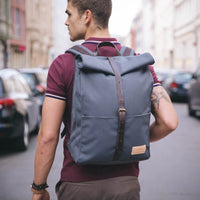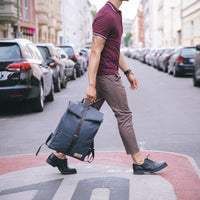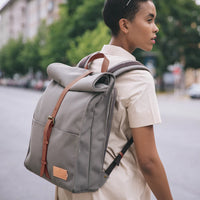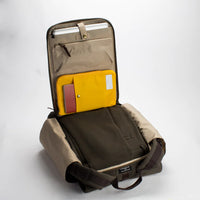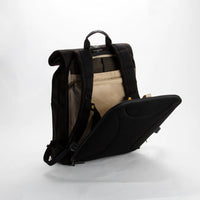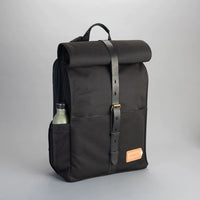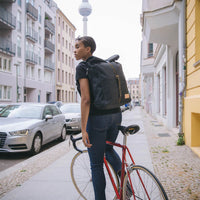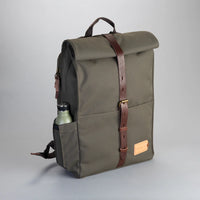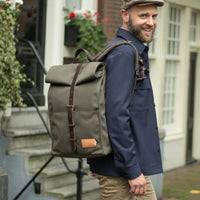 Property of
Alex 24h Backpack
The Alex 24h Backpack is your perfect everyday backpack. It takes you from office to gym and even a quick weekend away.
It has a classic, timeless look but is full of practical features. By opening it from the back it gives easy access to your laptop and lets you pack it like a suitcase.
The fabric of the Alex 24h backpack is waterproof. Just make sure you close the zippers properly, then biking through the Dutch rain is no problem : )
Opens from the back with zipper
Can be packed like a suitcase
Grab handle
Waterproof shell fabric
Padded 15" laptop compartment (the laptop used in the photo has the exact dimensions of 36.5cm x 25cm x 2.5cm)
Removable yellow travel pouch
Outside water bottle compartment
Inside net pockets to keep things organised
Comfortable, padded back panel
Padded and adjustable shoulder straps
Chest strap for extra comfort when the bag is heavy
Opens from the top for an extra 30% volume
Front pocket with magnets
Free personalised ID tag
Free, worldwide Lost&Found Service
Life-long warranty
Property of... 
Property Of... was founded in 2006 with the goal to provide a serious alternative to the classic full leather briefcase with a clean and timeless aesthetic, targeting men and women with contemporary urban lifestyles. The name Property Of... was selected as a kind of non- label, to simply refer to the unique identity of each bag's owner. By using our signature leather ID tags, labeling is functional and present while remaining understated.
B CORP COMPANY 

WHERE SOME SEE WASTE, WE SEE HIDDEN RESOURCES
"With our recycled fabrics, we tried to combine the best of two worlds. Inspired by classical waxed cotton canvas, we tried to re-create a look and feel that is natural, soft and feels like cotton, but with the advantage that it is stronger, waterproof and recycled. We develop our recycled fabrics with Ho Yu Fabrics in Taiwan. Ho Yu is one of the leading producers of recycled fabrics in the world. All fabrics are made from 100% recycled plastic (PET) waste and are Blue Sign and Global Recycle Standard certified."

Front pocket with magnets
Free personalised ID tag
Free, worldwide Lost&Found Service
Life-long warranty