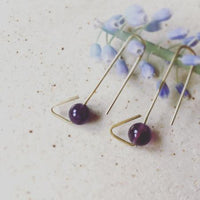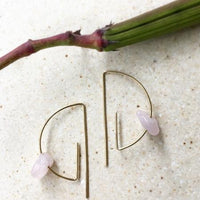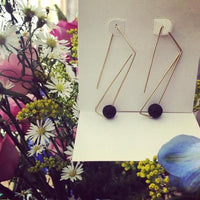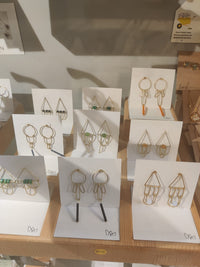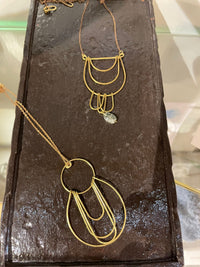 Merlin
Merlin Handcrafted Earrings
BRASS MERLIN EARRINGS
Merlin Earrings are made of brass/silver and gemstones/glass beads. Every pair of earrings are uniquely designed and handcrafted by me in my workshop in Amsterdam.
Fine and elegant - At the same time, every pair is unique.
The two main things to do for proper care of brass jewellery are to store them in pouches or a jewellery box and to protect them from contact with acidic substances. Here are some additional tips:
Remove your brass jewellery for cleaning, sports, or going to the pool
Drop your perfume drops away from the contact areas with your jewellery
Prefer a neutral pH soap or remove your jewellery in the shower
Remove your brass jewellery to sleep
MERLIN JEWELLERY

I have loved designing since I was young. For a long time, I used photography to capture geometry, light and colour. Then I focused on graphic design in which I truly used lines and shapes with great enthusiasm. But the field where I can express my creativity most deeply is jewellery design. Using my hands and my imagination so freely was something in which I found the most joy. I didn't know that my love of design will take me to a journey where I only make earrings. Since then I have made thousands of unique earrings, as I never make the same pair of earrings twice.
I gave my earrings and rings the name of Merlin the magician, believing that we all have magic inside. Merlin is a true symbol of creativity and imagination and reminds me of one's full potential. Our true self is like a magician who can generate abundantly. I believe that connecting with my own Merlin provided me with enough imagination to create my unique jewellery.
I use wire because it gives me endless possibilities. I am fascinated by the possibilities of creating shapes just by bending the wire by hand. To satisfy my love for colours and nature I use natural gemstones for my designs. Working with natural stones that have come into existence over millions of years, feels like magic itself…
Merlin Earrings are handcrafted by me in Amsterdam. The earrings are made from sustainable materials. Today almost 90% of all brass in the world is recycled. The gemstones used are all-natural. The paper to which the earrings are attached has been recycled and also becomes a small gift wrap.
I wish that every woman come closer to her own inner magician, by wearing Merlin Earrings…
AS THEY ARE ALL UNIQUE - selection can only be done instore or using video via mobile.