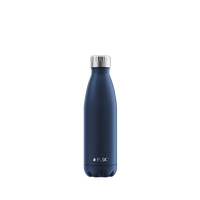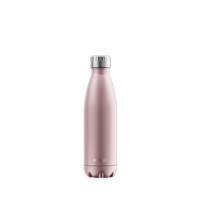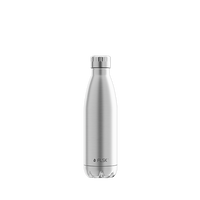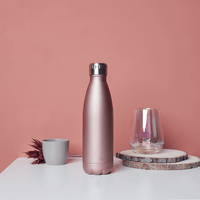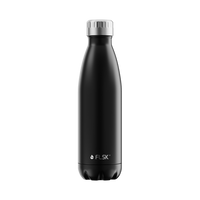 FLSK
FLSK Water Bottle 750ml
| | |
| --- | --- |
| diameter FLSK: | 8,0 cm |
| drink opening: | 3,4 cm |
| height with lid: | 28,6 cm |
| height without lid: | 28,0 cm |
| material: | stainless steel |
| size: | 750 ml |
| weight: | 420 g |
We wanted to design a thermos bottle beautiful enough for you to leave any plastic bottle behind. 
Our FRST 750ml gives you the opportunity to decide who you want to be and what you want to experience today. How? By being there for you when you really need it.
But our FLSK is not just beautiful on the outside. Beyond the shimmering colours, it's all high-tech without VICC® Technology. It keeps your drinks cold for up to 24 hours and hot for up to 18 hours.
You can shake it, drop it or let it bake in the sun for an entire afternoon. Nothing can impair the function of your FLSK thermo-bottle. It will not leak and while doing so, hold the carbonation of your favorite soda. It's a perfect match for someone who likes to cherish their yesterdays, dream their tomorrows and live their today's.
FLSK was founded in Munich, Germany, the core product is an elegant water bottle (flasks), combining outstanding quality and premium design.
The stainless steel drinking bottles are BPA and pollutant-free, keeping the drinks 24 hours ice-cold and 18 hours hot, the flasks and other everyday companions are made ethically in China.
FLSK a socially responsible and climate-friendly company, it considers reusability as only one pillar of its sustainable mission.

While working with GoodShipping, which is committed to sustainable overseas transport, FLSK is actively taking action to neutralise CO2 pollution.

CSR MISSION - "FLSK Movement". The team of FLSK strongly believes that sustainable change comes from constant movement towards the ecological and social best possible. As an example of this, the team funded the FLSK Future Fund, where it donates regularly 1% of its their turnover (not profit!).
It raised a six-figure sum to support projects and people who are committed to the environment and society. The fund is managed in cooperation with the GLS Zukunftsstiftung Entwicklung (Future Foundation for Development).