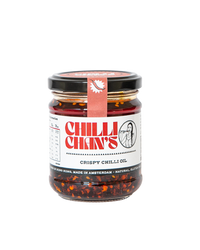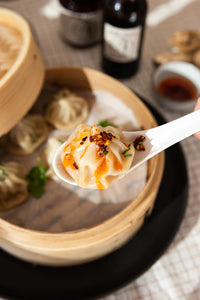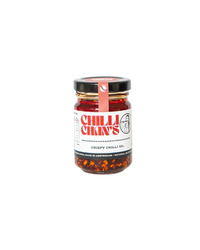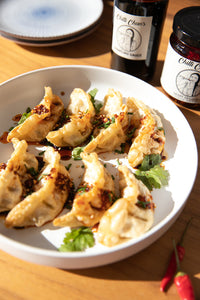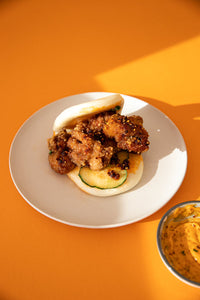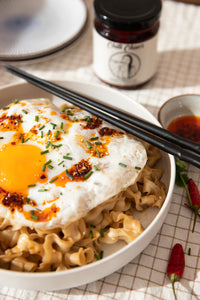 Chilli Chan's
Crispy Chilli Garlic Oil Regular
This crispy chilli oil is homemade in small batches in Amsterdam. 
It's 100% natural, gluten-free and vegan. 
The oil is infused with lots of aromatic spices and bits of roasted garlic! Perfect for adding a kick to your pasta, pizza, tacos, stir-fries, noodles, rice, and eggs or bread! Literally almost everything! 
Best before
Keep it in the fridge or cool dry storage for up to 1 year
Ingredients
Sunflower oil, chilli, garlic, brown sugar, roasted sesame seeds, spices and Sichuan peppercorn
Allergies
Contains sesame seeds, soy, celery
OUR STORY

I was born in Hong Kong and grew up in Sydney. While I was growing up, my family never had salt and pepper on the dining room table. Instead, my mum who is Taiwanese (and my dad from Hong Kong) would make her chilli and XO sauces.


Seven years ago, I moved to Germany and then Amsterdam. I tried chilli oils from most Asian supermarkets, but none had quite the same flavour as my mum's homemade recipe.

It was during the 2021 lockdown that the idea of Chilli Chan's was born. I was missing the punch and crunch of my mum's chilli sauce and couldn't see my family and eat home-cooked food for nearly 3 years, so I decided to make my own version with a modern twist. When I shared my recipe with my friends, they encouraged me to share it with YOU.


Our Mission
Our mission is to bring the most delicious Chinese flavours to your table with the use of natural, preservative-free ingredients that are accessible around you.


Our Vision
Our vision is to bring the joy of chilli and flavourful Chinese food to every household, creating delicious & easy recipes for any occasion because you should


LIVE LIFE ON THE SPICY SIDE!  
Made in Amsterdam.