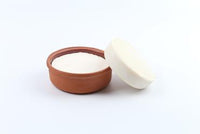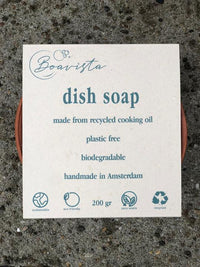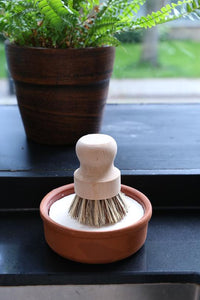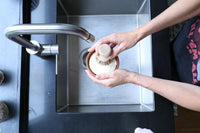 Boavista
Solid Dish Soap
Our homemade solid dish soap is a bar with strong cleaning properties with a rich and thick consistency.
We use recycled oil instead of fresh oils; after filtering and cleaning the used oil, leaving no smell of deep-fried oil, it is ready to be the base of Boavista dish soap.
This way, we can prevent the improper disposal of these oils, and the result is as effective as regular soaps cutting stubborn grease and leaving your dishes shining like a disco ball.
You can even use it for cleaning duty all over your home. It's truly a multipurpose product.
All-natural, 100% biodegradable, mild to your hands and the environment

It's made to fit.

 Ingredients: Waste frying oil, coconut oil, Sodium Hydroxide, Distilled water, Essential oil (Citrus sinensis)
How to use: Scrape dishes to remove excess food. Wet your sponge or dish brush and rub it into the soap bowl to create suds; repeat as needed. Wash items and rinse well. Works in warm or cold water.
This soap will take time to wear down; lots of washes until it is over. Around three months easily.
Made in: Amsterdam
Specifications: 200g of soap 
OUR STORY

Boavista uses waste recycled oil to produce effective solid dish soap and cleaning accessories. Their handmade solid dish soap is an alternative to eliminate the need for plastic bottles. All-natural, biodegradable, sulphate, and paraben-free. Why mention it? Because Parabens is a chemical group used to extend the shelf life of products and many people are allergic to it. And there is no need for sulphates to create extra foam; it foams very well. It is a multipurpose soap, perfect to use for household cleaning in general.

Boavista sponges are hand sewed by a group of women from a poor community in the south of Brazil, generating income and supporting local work, both for these women and the fishermen from whom Nara Guichon buys the nets.
Transparency in the Ingredients:
Waste frying oil

Coconut oil

Sodium Hydroxide

Water

Citrus Essential Oil.